Invisible  hearing aids are a new option for certain individuals with hearing loss who don't want to wear obvious hearing aids or deal with maintenance and battery changes.
The Phonak Lyric is an invisible device that is worn 24 hours a day, seven days a week for up to four months at a time. It's sold on a subscription basis, so when the built-in battery dies, the user visits a Lyric-trained hearing care provider to get a new device. Lyric is placed deep in the ear canal, just four millimeters from the eardrum. It can be worn during most of your regular activities, including showering, exercising and sleeping.
How Does Lyric Work?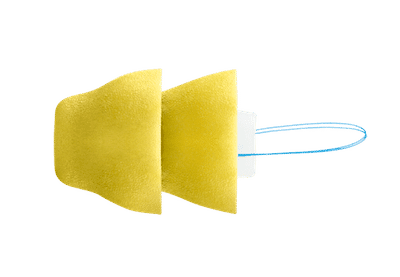 Lyric relies on the outer ear's natural anatomy to funnel sound through the ear canal and into the device. Lyric amplifies soundwaves before sending them to the eardrum. The result is improved directionality and sound localization – meaning you have a greater ability to detect which direction sound is coming from. Speech is clear and natural, and feedback is minimal.
The devices have a special coating that protects them from moisture and debris. They are designed to fit comfortably and securely, with soft foam seals that conform to the shape of the ear so they won't slip out or get lost.
Who Benefits from Lyric?
Lyric is best for those with mild to moderately severe hearing loss. They are the ultimate hassle-free hearing aid with no batteries to replace, no cleaning or maintenance required and no programming to worry about.
Ninety-four percent of Lyric users prefer Lyric over their previous hearing aids, and 86 percent report very natural sound quality.
Psychological Benefits of Lyric
According to a study on the qualitative impact of Lyric devices on patients' daily lives, patients with Lyric show more positive psychosocial outcomes than those who wear conventional hearing aids. Researchers hypothesize that these results may be due to the lack of intervention and maintenance that are typically required with hearing aids use. Additionally, Lyric wearers do not need to adjust their lifestyle to accommodate the devices.
In short, with Lyric, hearing loss treatment more closely resembles the experience of having normal hearing than traditional hearing aids. This correlates to more positive emotions regarding the hearing rehabilitation process.
For more information about Lyric or to schedule an appointment with an audiologist, call House Providence Hearing Health Care Centers today!