Whether you're a concert-goer or concert-performer, it's essential for you to take measures to protect your hearing in order to be able to continue enjoying the music well into old age.
The threshold for sounds that are considered safe is 85 dB – around the volume of a crowded restaurant. Rock concerts and symphonies clock in around 125 dB, which is certain to cause irreversible hearing damage over time.
What Is Noise-Induced Hearing Loss?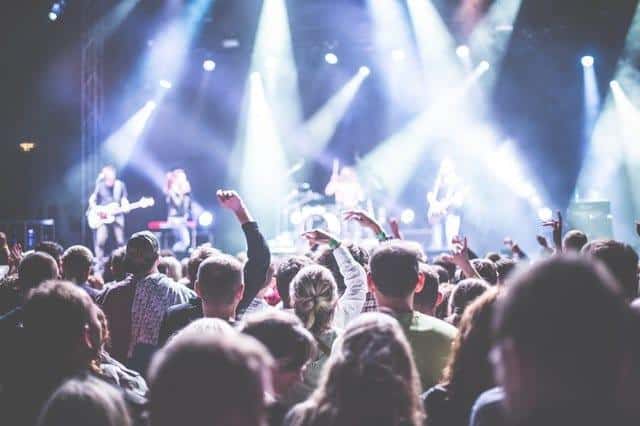 The inner ears contain tiny hair cells called stereocilia. These hair cells are responsible for converting soundwaves to electrical energy that is translated by the brain as sound. Loud sounds can damage these hair cells, and once damaged, they do not regenerate ­– leading to permanent sensorineural hearing loss.
How Can I Protect My Hearing at a Concert?
There are a variety of strategies you can use to protect your hearing from noise induced hearing loss; we recommend following all of them.
Wear Earplugs
Musician's earplugs are a great tool to help block out the dangerous decibel levels of concerts without sacrificing music clarity. Custom-fit musician's plugs offer the most comfort and protection, although generic ones are available online and in stores. Even disposable drug store earplugs can go a long way to helping protect your hearing.
Don't Stand by Speakers
While you may not be able to escape the booming stadium speakers at large concert venues, at smaller shows you can strategically position yourself to avoid the loudest spots in the room. If you're at a local concert and the music is too loud, simply moving a couple rows back can help prevent post-concert tinnitus (ringing in the ears) and hearing loss.
Keep in mind, louder does not always mean better. Standing halfway between two speakers will provide superior sound quality than being uncomfortably close to just one.
Use Noise-Cancelling Headphones
When wearing earbuds or headphones, most people crank the volume up much louder than it should be. This is especially true in crowded, noisy spaces. Noise-cancelling headphones block out background noise so you can better hear your music without turning up the volume too high. While they can be pricey, they will improve your music listening experience and do much less damage to your ears!
For more information about hearing protection or to schedule a hearing screening, call House Providence Hearing Health Care Centers today.
Learn More About Hearing Loss