Whether you're the type who bounds onstage and belts out a tune every opportunity you can or wouldn't dare croon out loud unless in the privacy of your own shower, singing can be an enjoyable experience. And for kids with cochlear implants in Los Angeles, it can be downright beneficial.
Finnish Study Shows Benefits of Singing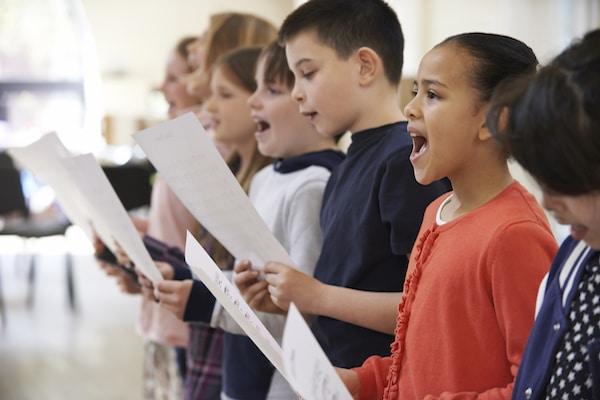 A new study conducted by researchers in Finland shows that children who wear cochlear implants and enjoy singing can actually improve their ability to hear, especially in environments where background noise is a factor.
The study took a look at "speech-in-noise" skills – the ability to understand speech in noisy settings – of children between the ages of four and 13 with cochlear implants.
They were divided into three groups based on their everyday singing habits as determined by questionnaires filled out by their parents: two with cochlear implants and a control group with normal hearing.
Researchers were most interested in "informal" singing – unstructured, spontaneous activity that might occur when the kids were watching movies, listening to music or reading nursery rhymes.
Testers asked the children to point out pictures representing words and sentences being played over a loudspeaker over a background of steady noise.
The results, published in the journal Music Perception, found that children with normal hearing had better overall speech recognition than those with cochlear implants.
No surprise there.
But of those who wore cochlear implants, the children who sang the most often demonstrated better attention and speech perception skills than kids who were less likely to sing. They also proved better at recognizing rhythm patterns, indicating a better understanding of speech patterns.
Overcoming Background Noise
Anybody with hearing loss in Los Angeles struggles with background noise.
Individuals with cochlear implants have an even harder time understanding due to the limitations of cochlear implants, specifically a narrow audio range that hampers the processing of simultaneous and competing sounds.
Children are at an even bigger disadvantage due to their exposure to places where background noise is constant and unavoidable, such as school and daycare settings.
This puts them at risk for language delays and learning difficulties and a number of long-term effects such as low self-esteem and poor relationships with peers.
Children who like to sing were often inspired by parents who sang to them when they were younger.
Visual cues are instrumental in helping people with hearing loss understand more easily, so paying attention to their parents' mouth and lip movements while they sang is one factor in their better overall ability, researchers believe.
In addition, singing helps improve vocal pitch and intensity and speech rhythm, strengthening the connection between hearing and speech.
Regular rhythm, slow tempo and repetition seem to be the keys to achieving the best overall results; given that most songs have few words and lots of repetition, kids who sing are better able to process what they hear.
Your Los Angeles audiologist recommends encouraging children with cochlear implants to sing as often, and as loudly, as they'd like. That might mean watching "Frozen" several times a week, but hey – it's a small sacrifice to make, right?
---
Related Hearing Loss Posts:
---
Los Angeles Area Audiologists Office Locations
Los Angeles
2100 West 3rd Street
Los Angeles, CA 90057
(213) 483-9930
Santa Monica
2825 Santa Monica Blvd
Santa Monica, CA 90404
(310) 449-1877