Summer in Los Angeles means it's time to hang ten!
But before you hit the surf, you'll want to take precautions to protect your ears.
Surfing, swimming and other water activities can lead to painful ear infections – and maybe worse.
What is Surfer's Ear?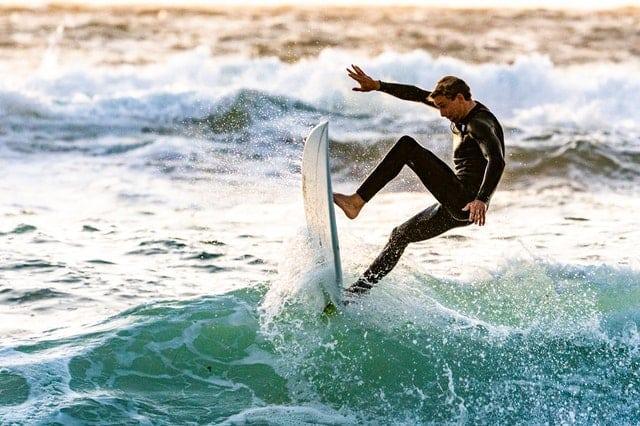 The name surfer's ear is misleading because even those in landlocked North Dakota can experience this inflammation of the bone in the ear canal – all it takes is exposure to cold water and wind.
Even Fargo residents are familiar with those conditions!
Surfers and swimmers are the most likely to develop this condition simply because of their frequent contact with water.
Surfers ear is characterized by a thickening of the bones in the ear canal and a narrowing of the canal itself.
If not treated, hearing loss could occur.
Symptoms of surfer's ear include frequent ear infections and a plugged-up sensation that can cause hearing difficulty.
Continued bone growth could result in a total blockage of the ear canal and conductive hearing loss.
If you develop surfer's ear, your Los Angeles audiologist is likely to recommend a canalplasty surgery.
This outpatient procedure aims to chisel away excess bone growth, in most cases restoring any lost hearing ability.
Of course, nobody wants to go under the knife, so it's important to take steps to prevent surfer's ear.
Your best bet is to avoid swimming in water that is extremely cold – especially on windy days.
Luckily, this is rarely a problem in temperate California.
You might also consider wearing swim plugs or a swimming cap as an added precaution.
Swimmer's ear is another concern for those who engage in water activities.
It occurs following exposure to water that contains high bacterial levels and results in a painful ear infection that could eventually lead to hearing loss.
Look for signs warning of high bacteria counts and save your Speedo for another day.
More Summer Health Hazards
Water isn't the only health concern during the warm summer months, and your hearing isn't the only thing susceptible.
Summer allergies can wreak havoc with your immune system, causing cold-like symptoms such as nasal discharge or congestion; sneezing; cough; itchy, watery eyes and postnasal drip.
Many of the local media outlets post pollen counts; avoid going outdoors as much as possible when levels are high or save your errands for early mornings or later in the evening.
Sore throats are also common during this time of year; cheering on your favorite sporting team, smoking, drinking alcohol and constant exposure to air conditioning can all irritate the lining of your throat, causing hoarseness and pain.
These conditions may make you want to hole up until winter arrives, but not to worry – taking a few precautions will keep you healthy and safe all summer long.
For more information on summer hearing and health dangers, talk to your Los Angeles doctor.
---
Related Hearing Loss Posts:
---
Los Angeles Area Audiologists Office Locations
Los Angeles
2100 West 3rd Street
Los Angeles, CA 90057
(213) 483-9930
Santa Monica
2825 Santa Monica Blvd
Santa Monica, CA 90404
(310) 449-1877