Being a successful athlete requires you to be in tune with your senses. For those with hearing loss, all that's needed is a little extra planning to keep up with the competition. Follow the tips below to learn more about playing sports with hearing loss.
Successful Athletes with Hearing Loss
One of the earliest deaf athletes to rise to fame was Heather Whitestone. She won the Miss America pageant in 1995 after wowing the judges with her classical ballet en pointe, even without being able to hear the music. She did this by counting the beats in her head and synchronizing her dance moves to match the pitch changes.
During her reign, Heather launched the country's largest public awareness campaign to promote the importance of identifying hearing loss early.
Since Heather, there have been a number of famous deaf athletes.
The 2008 Beijing Olympics saw two deaf athletes: Chris Colwill was an American diver and Tamika Catchings was a WMBA player. The following summer Olympics was slated to have Marcus Titus, but he lost a spot on the team in the 100-meter breaststroke by .79 of a second.
Tell Your Audiologist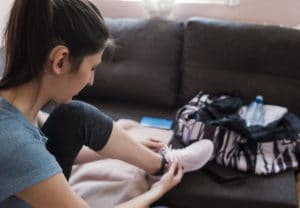 It is important to tell your audiologist if you play a sport. When they recommend a hearing aid, there are a number of factors that go into that decision. One of those is your amount of physical activity.
The ITE model sits in the ear, offering the device more protection from the elements. BTE models can be secured to your clothing to prevent accidental falls.
Protect Your Equipment
Hearing aids can be easily damaged from exposure to moisture or falling on the ground.
If you participate in water sports or sweat a lot, you should consider investing in a hearing aid dryer or dehumidifier. Sweat bands can also help keep sweat from dripping near your ears.
There are products available to help secure your hearing aid to your clothing. This is helpful if you find yourself running a lot.
Let Others Know
You should always let your teammates know about your hearing loss. Telling them ensures that they will get your attention if there is a whistle or a timeout called.
Hearing loss does not need to get in the way of playing the sports you love. To learn more or to schedule an appointment, contact the hearing experts at House Providence Health Care Centers today.
Learn More About Hearing Loss